BRAZIL ACAI Juice
- 300ML/10FL. OZ.
- Extremely high level of antioxidants.
- Rich source of polyphenol, phytosterol, vitamin e, omega 6, omega 9, anthocyanin and proanthocyanidins.
- Fast absorption
ACAI IS THE FRUIT OF A PALM TREE THAT GROWS IN THE RAINFORESTS OF THE AMAZON- A TREE BRAZILIANS CALL "THE TREE OF LIFE." BECAUSE ACAI FRUIT IS PERISHABLE, IN THE PAST, ITS POPULARITY STAYED ONLY IN BRAZIL. HOWEVER, IMPROVED PROCESSING OF THE FRESH FRUIT IS MAKING IT POSSIBLE TO PRESERVE MORE OF THE FRUIT'S BENEFICIAL ATTRIBUTES FOR USE BEYOND THE REGION. SINCE THEN, THE NEWS ABOUT ACAI HAS BEEN STEADILY SPREADING, AND THE EVIDENCE OF ITS NUTRITIONAL AND HEALTH BENEFITS JUST KEEP ON PILING UP. ACAI EARNED ITS REPUTATION AS THE MOST EFFECTIVE SUPER FRUIT/ WONDER FRUIT THE WORLD HAS EVER KNOWN.

BRAZIL ACAI WITH ITS ANTIOXIDANT (ORAC), IS AN EXCELLENT SOURCE OF POLYPHENOL, PHYTOSTEROL, VITAMIN E, OMEGA 6 AND 9, ANTHOCYANIN AND PROANTHOCYANIN.


CAUTIONS AND WARNINGS
---
IF YOU ARE PREGNANT OR BREASTFEEDING, CONSULT A HEALTH CARE PRACTITIONER PRIOR TO USE.
HYPERSENSITIVITY/ ALLERGY HAS BEEN KNOWN TO OCCUR TO ACAI OR PLANTS OF THE ARECACEAE FAMILY. IN SUCH A CASE, DISCONTINUE USE.
DERMARDEROSIAN A, BEUTLER JA, EDITORS. THE REVIEW OF NATURAL PRODUCTS. [ACAI: DATE OF ISSUE JANUARY 2008]. ST LOUIS (MO): FACTS AND COMPARISONS, WOLTERS KLUWER HEALTH; PRINTED IN 2008 AND UPDATED TO APRIL 2012.
FACCOLIA S. CORNUCOPIA II A SOURCE BOOK OF EDIBLE PLANTS. VISTA (CA): KAMPONG PUBLICATIONS; 1998.
LICHTENTHÄLER R, RODRIGUES RB, MAIA JG, PAPAGIANNOPOULOS M, FABRICIUS H, MARX F. TOTAL OXIDANT SCAVENGING CAPACITIES OF EUTERPE OLERACEA MART. (AÇAÍ) FRUITS. INTERNATIONAL JOURNAL OF FOOD SCIENCES AND NUTRITION 2005;56(1):53-64.
MCGUFFIN M, KARTESZ JT, LEUNG AY, TUCKER AO, EDITORS. HERBS OF COMMERCE. 2ND EDITION. SILVER SPRING (MD): AMERICAN HERBAL PRODUCTS ASSOCIATION; 2000.
MERTENS-TALCOTT SU, RIOS J, JILMA-STOHLAWETZ P, PACHECO-PALENCIA LA, MEIBOHM B, TALCOTT ST, DERENDORF H. PHARMACOKINETICS OF ANTHOCYANINS AND ANTIOXIDANT EFFECTS AFTER THE CONSUMPTION OF ANTHOCYANIN-RICH AÇAI JUICE AND PULP (EUTERPE OLERACEA MART.) IN HUMAN HEALTHY VOLUNTEERS. JOURNAL OF AGRICULTURE AND FOOD CHEMISTRY 2008;56(17):7796-7802.
MORS WB, TOLEDO RIZZINI C, ALVARES PEREIRA N, DEFILIPPS RA. MEDICINAL PLANTS OF BRAZIL. ALGONAC (MI): REFERENCE PUBLICATIONS INC.; 2000.
SCHAUSS AG, WU X, PRIOR RL, OU B, HUANG D, OWENS J, AGARWAL A, JENSEN GS, HART AN, SHANBROM E. ANTIOXIDANT CAPACITY AND OTHER BIOACTIVITIES OF THE FREEZE-DRIED AMAZONIAN PALM BERRY, EUTERPE OLERACEAE MART. (AÇAI). JOURNAL OF AGRICULTURE AND FOOD CHEMISTRY 2006;54(22):8604-8610.
SCHRECKINGER ME, LOTTON J, LILA MA, GONZALEZ DE MEJIA E. BERRIES FROM SOUTH AMERICA: A COMPREHENSIVE REVIEW ON CHEMISTRY, HEALTH POTENTIAL, AND COMMERCIALIZATION. JOURNAL OF MEDICINAL FOOD 2010;233-246.
TONON RV, BRABET C, HUBINGER MD. ANTHOCYANIN STABILITY AND ANTIOXIDANT ACTIVITY OF SPRAY-DRIED AÇAI (EUTERPE OLERACEA MART.) JUICE PRODUCED WITH DIFFERENT CARRIER AGENTS. FOOD RESEARCH INTERNATIONAL 2010;43(3):907-914.
USDA 1999: USDA ARS, NATIONAL GENETIC RESOURCES PROGRAM. GERMPLASM RESOURCES INFORMATION NETWORK (GRIN) [INTERNET]. NATIONAL GERMPLASM RESOURCES LABORATORY, BELTSVILLE: (MD). [EUTERPE OLERACEA MART. LAST UPDATED: 10-FEB-1999]. AVAILABLE FROM: HTTP://WWW.ARS-GRIN.GOV/CGI-BIN/NPGS/HTML/TAX_SEARCH.PL
This page is not intended to be a comprehensive review of the medicinal ingredient.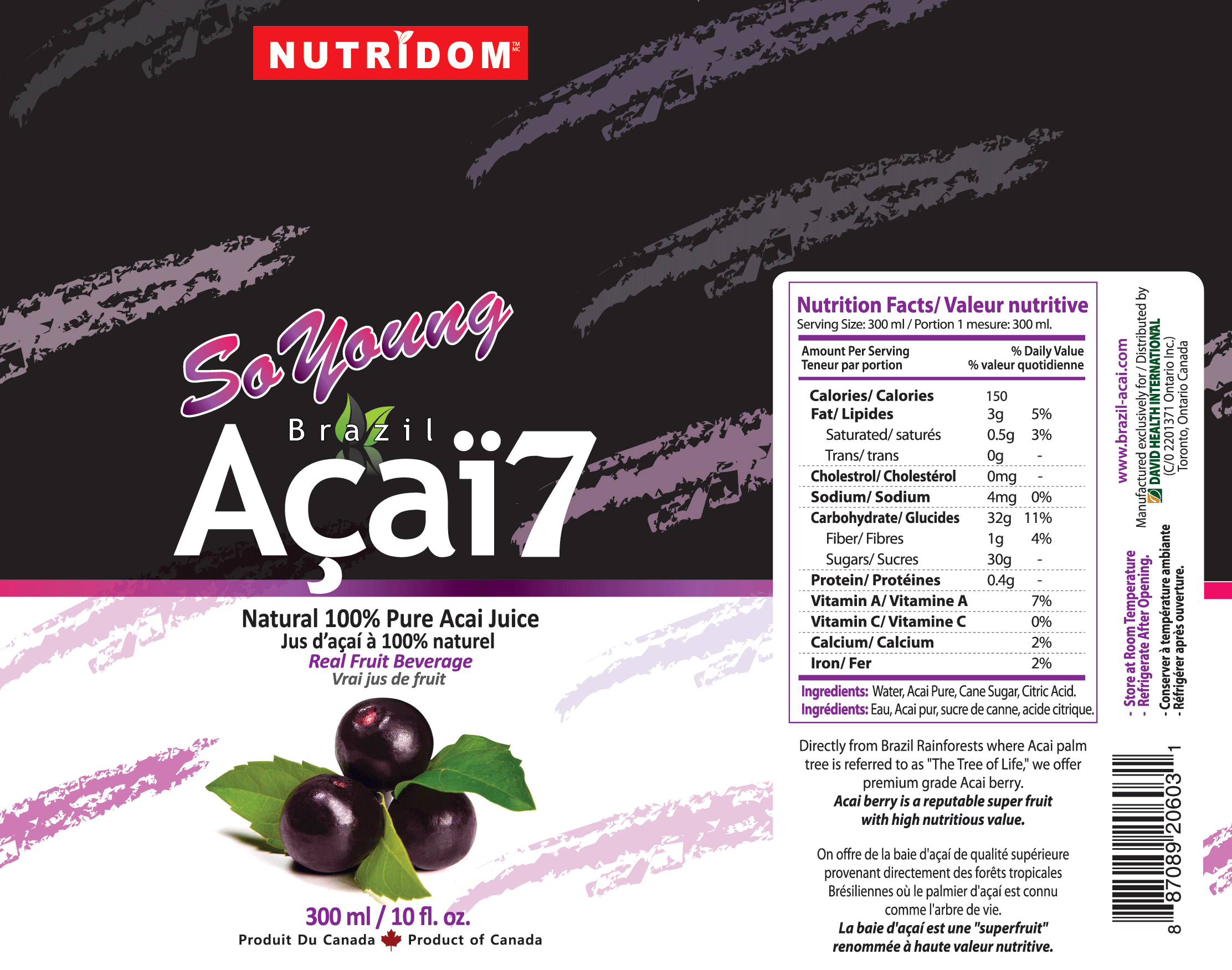 | | | | |
| --- | --- | --- | --- |
| NPN | PRODUCT CODE | POTENCY | CAPSULE |
| * | AAA009 | 300ml Natural 100% Pure | 300ML/10FL. OZ |